The primary goal of every school leader is to see their school grow to the next level. As we are moving towards a digital era, achieving the growth of English language schools by creating positive brands and attracting potential students and their parents has become easier with the help of digital marketing.
Furthermore, digital marketing is a vast concept and has many types. As a school leader, you can use content marketing which has many benefits from attracting potential students and parents to building the brand value of your English School, it can enable you to achieve it all.
According to omnicoreagency.com , we can see that many businesses opt for content marketing which is one of the types of digital marketing to take their business to the next level.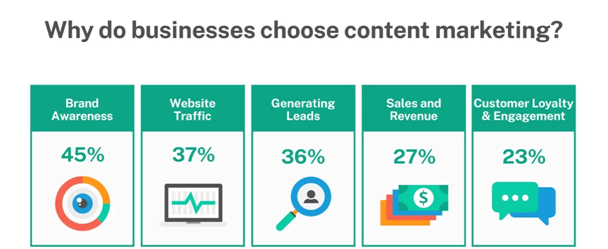 Source: omnicoreagency.com
Now, you might be interested in discovering ways to effectively utilize digital marketing strategies for the growth of your English Language school. Then there's no need to worry, we have created this blog post that contains a range of strategies to help you achieve your goals.
So, without any further delay, let's get started.
Digital Marketing Strategies to Grow Your English Language School 
1. Have Proper Understanding of Your School's Values & Principles
Before implementing any digital marketing strategies, you must identify your school's core principles, values, and target audiences. Understanding all the characteristics and preferences that your school stands for in detail will ultimately help you to make an informed decision to create effective marketing strategies to attract the right target audiences to your English Language school.
2. Inspire Potential Audience with Compelling Stories
We all know that every human connects with stories more than facts. You can share stories related to your school, students, or any stories that resonate with your target audience which is students and parents.
Example- You can share stories related to how your English language school was founded, and success stories of students in the form of videos or written posts on different social media platforms or on the school website.
Additionally, remember while creating any form of post you must focus on creating an emotional connection with your target audience and show them what kind of value your language school can provide.
3. Connect with English students through Influencer marketing
Influencer marketing is a fantastic way to boost brand awareness and build trust with your target audience. Collaborate with micro-influencers or nano-influencers whose followers align with your intended market. These influencers can help spread the word about your courses or services to their audience expanding your reach and establishing credibility. Conduct research on hashtags and online communities on social media platforms to identify influencers who can assist you in reaching potential students.
Example–
In your community approach someone who regularly posts about English language schools and offer them a complimentary English class in exchange for a post or recommendation on their social media profiles.
4. Engage and Nurture Potential English Students with Email Marketing
Email marketing is an incredibly effective tool for nurturing leads and converting them into enrolled students. Set up automated email campaigns that deliver relevant messages to potential students at various stages of their decision-making process. These emails can include messages, success stories, course feedback, informative articles, exclusive offers, and deadline reminders. Utilize an email automation platform, like Mailchimp or Mailer-lite to streamline and automate your email marketing initiatives.
Example-
Create an automated email series specifically designed for students who have shown interest in a particular course. You can forward a sequence of informative and relevant emails to them which includes a special discount on an upcoming course.
5. Generate Leads on Your English School's Website by Creating Engaging Content
To attract potential students to your English school's website it is crucial to create valuable and relevant content. Start by conducting keyword research to understand what your target audience is searching for. Then develop content that caters to their needs.
This can include a variety of formats such as blog posts, videos, guides, and tutorials specifically focused on English language learning. To generate leads and increase website traffic make sure you promote this content through channels like email campaigns, social media platforms, and online communities.
Example-
Consider hosting a webinar where you provide an overview of one of your courses. Highlight the benefits of the course. Offer a limited-time discount or special promotion. Be sure to promote the webinar on your website as well as across other relevant platforms.
6. Engage Prospective English Students through Short Form Videos
Short-form videos are incredibly engaging and easily shareable. They serve as a tool for promoting your English school effectively. Create different types of short-form videos that cater to various aspects of student engagement.
Example– Consider featuring User-Generated Content (UGC) showcasing student's experiences at your school or creating teasers that generate excitement for upcoming courses. You can also create behind-the-scenes videos giving students a glimpse into your school's facilities and introducing them to your staff members.
Additionally producing explainer videos addressing challenges faced by students can be highly beneficial.
Don't forget to optimize these videos for viewing by adding subtitles or, on-screen text.
7. Utilize Social Media Platforms to Connect with Potential Audiences
Social media platforms provide a unique opportunity to engage with potential students and deliver exceptional customer service. Make use of social media as a channel to address queries, resolve concerns, and interact with your audience.
Encourage interaction by posing questions, sharing valuable information and promptly responding to comments and messages. Bridge the gap between your online presence and offline activities by leveraging social media to promote offline events or guide prospective students in reaching out to school representatives.
Example-
Engage your social media followers by posting a thought-provoking question related to your English courses. Take the time to personally respond in a helpful manner to comments and suggestions as well.
8. Always Stay Updated of Your English School's Reputation and Industry Trends
Monitoring your English school's reputation and staying updated on industry trends is crucial for maintaining a positive brand image and adapting to the evolving needs of your students. Regularly monitor student reviews and feedback, actively participate in online communities and forums, and utilize social listening tools for tracking conversations about your institution and the ELT (English Language Teaching) industry. By attentively listening to your audience, you can address concerns, identify areas for improvement, and make well-informed business decisions.
9. Maintain Consistency and Stay True to Your English School's Brand
Lastly, always remember that consistency is key when it comes to branding your English school. Ensure that your messaging, visuals, and overall brand identity align across all platforms and touchpoints. Stay true to your school's values, mission, and unique selling propositions. Consistency builds trust and recognition among your audience, making it easier for potential students to choose your school over competitors.
Take Your English Language School to the Next Level with Digital Marketing
We live in a digital era where it feels like nothing is possible to achieve. This era has become a boon for those school leaders who want to create a positive brand for their school and also be able to attract potential students and parents to increase enrollment numbers in school with the help of Digital marketing strategies.
Those school leaders who has pursued courses like International TESOL Bachelor's degree programs knows how to take advantage of different digital marketing strategies to take the school to the next level. However, one can also learn different digital marketing strategies to use with which they can improve their school brand value and be able to stand out from their other competitor.
Embrace these strategies and adapt them to your specific goals and target audience, and watch your school thrive in the digital landscape.